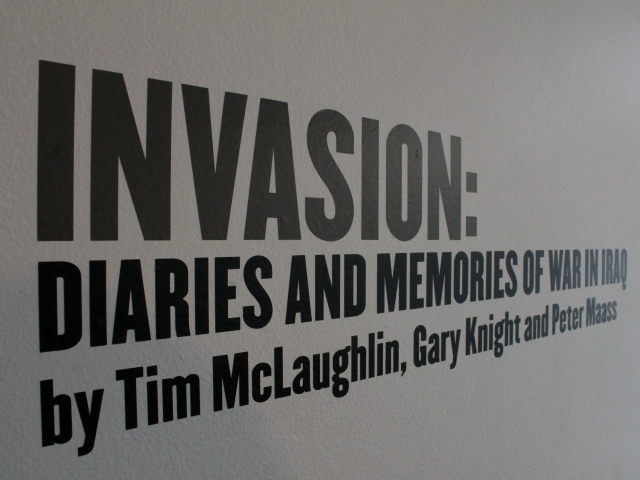 The exhibit I have been working on, Invasion: Diaries and Memories of War in Iraq, opened last week at the Bronx Documentary Center in New York City. It features the remarkable war diaries of Marine Lt. Tim McLaughlin, excerpts of stories I wrote about the invasion, and photos by Gary Knight. In 2003 Gary and I followed Tim's frontline battalion to Baghdad, where Tim's American flag was placed on the statue of Saddam Hussein at Firdos Square.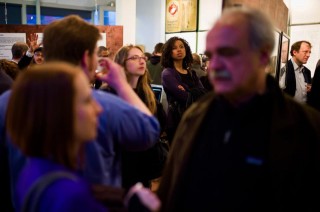 Invasion is an unusual look at war and history from three perspectives–combatant, writer, photographer. It is our effort to describe what war looks like and feels like on the ground, rather than from a far-away anchor's chair or politician's desk. We've also created a video installation that features a loop of news footage from the invasion era–everything from Secretary of State Colin Powell's speech to the United Nations, to the explosions of shock and awe in Baghdad and President Bush's "Mission Accomplished" speech on an aircraft carrier. On the tenth anniversary of the invasion, we hope the exhibit focuses attention on the true cost of war.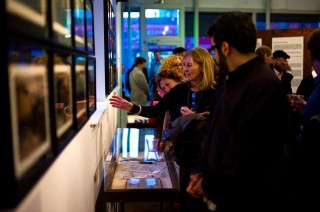 The exhibit has been fortunate to attract some media attention. CBS News has aired a piece, the New Yorker wrote about it, as well as AFP, AP, and Public Radio International. The photos on this post are from the opening reception; for more photos, please visit the gallery's Facebook page. The exhibit runs at the Bronx Documentary Center until April 19.
Update: The New York Times wrote about the exhibit too, calling it "a stinging rebuke of the news media's early unquestioning coverage as well as a window into the nature of war."