An examination of oil's indelible impact on the countries that produce it and the people who possess it.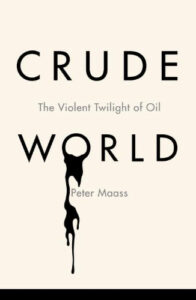 Every unhappy oil-producing nation is unhappy in its own way, but all are touched by oil's unfortunate power to worsen existing problems and create new ones. Crude World explores the troubled world oil has created—from Saudi Arabia to Iraq, Russia, Nigeria, Venezuela and beyond. The book features warlords in the oil-rich Niger Delta, petro-billionaires in Moscow, American soldiers and oilmen in Baghdad, the gesticulations and politics of Hugo Chavez, as well as officials in Riyadh who avoid uncomfortable questions about Saudi reserves. Crude World also ventures into Equatorial Guinea, the setting for misrule and corruption as well as a race for oil between American and Chinese firms.
Rebels, royalty, middlemen, environmentalists, indigenous activists, CEOs—their stories tell the larger story of petroleum in our time. Crude World is a journey into the violent twilight of oil that answers the questions of what we do for oil and what oil does to us.
Excerpt from Crude World
---
Reviews & Press
"Whether Mr. Maass is in the primeval, environmentally ruined Niger Delta region of southern Nigeria, or in a Venezuelan slum where 'even the jobless are mugged,' or in a menacing and soulless Moscow high-rise, or among wayward, spoiled-brat Saudi youth, he shows how the trail of oil leads a traveler to either grim poverty or repulsive wealth."
Read the full review

Robert D. Kaplan in The Wall Street Journal
"Peter Maass takes readers on a vivid tour of troubled oil frontiers, voyaging to places like Nigeria's polluted delta, Equatorial Guinea's dusty capital, Ecuador's scarred rain forest and Russia's corporate boardrooms, where corruption is rife and environmental neglect all too common. It is a disturbing catalogue of the underside of the international oil industry."
Read the full review

The Washington Post
"Riveting and illuminating…Crude World may wind up shelved in the growing library of books that chart paths toward a sustainable future, but it belongs in a different class. The book is not about oil policy or the energy crisis, at least not primarily; it is a moral reckoning with basic instincts."
Read the full review

The Nation
"The strength of Crude World, filled with vivid reporting, is that it leaves you no option but to care."
Read the full review

The Observer
"Powerfully written … His book teaches us an old lesson anew: that the true wealth of nations is not discovered in the ground, but created by the ingenuity and sweat of citizens."
Read the full review

The New York Times Sunday Book Review
"Maass is a keen observer, a fine storyteller and forceful writer, and his book is a readable gem for anyone seeking a primer on the history of oil and its geopolitical ramifications.
Read the full review

The San Francisco Chronicle
"Peter Maass takes a fascinating, nightmarish journey to the far end of the pipeline. If you want to know the true cost of America's oil addiction — and if even you don't — you should read this book."

Elizabeth Kolbert
"With the clarity of a hard-boiled investigator and the grace of a fine writer, Peter Maass reveals how oil has cursed the countries that possess it, corrupted those who want it, and wrought havoc on a world addicted to it. Brilliant and compelling."

Robert B. Reich
"Crude World gets its energy from Peter Maass's exhaustive investigation and first-hand experience and results in an illuminating narrative of the true impact of the global dependence on oil. His engaging historic perspective brings clarity to what should come next. This book is essential reading for these times and for anyone interested in making the right decisions about our energy future."

Robert Redford
"Getting off oil is a great idea for a lot of reasons, like saving the planet's climate. But Peter Maass gives us another set of bonuses. If you think drug dealing is a dirty business, then meet the biggest drug of all."

Bill McKibben
More Reviews…
The Economist
Grist
Huffington Post
Financial Times
Financial Times
The Independent
The Telegraph
New Statesman
Center for a New American Security
Oxfam America
The National
Washington Monthly
Christian Science Monitor
Decatur Daily
German Radio
Austrian Radio
Politiken (Denmark)
Treehugger
Asia Times
Il Sole 24 Ore
Order Crude World
Amazon US | Barnes & Noble US | Amazon UK